Journaling is a reliable and effective tool to help improve mental well-being, maintain emotional stability, reduce stress, boost physical health and wellness, and much more. While the jury is out on how old this practice is, it wouldn't be a far-fetched idea that humans have been doing some form of journaling ever since writing systems existed.


With the age of digitization, journaling apps have made journaling more accessible to people from wherever they are, at any time of the day. If you're looking for the best journaling apps to start or level up your journaling habit, then you're in the right place.

Read on to learn more about how consistent journaling can improve your life and how journaling apps make it incredibly simple to maintain a daily journaling habit.

Journaling reveals self-concept clarity
Keeping a journal can be an effective way to help you process thoughts in a contemplative way and find peace. It is very therapeutic because it allows you to release emotions or express emotions that are difficult to verbally communicate. It can also simply provide you with just some time to connect with your own thoughts.

There is immense power in taking the time in your day to pause, reflect, release emotions, and connect with your thoughts—however random your thoughts may seem.

Releasing your emotions can help you heal and raise your energy. Connecting with your thoughts can help you get to the root cause of problems or shed insights on the troubles in your life, and hence, give you the clarity to find the solution. As Charles Kettering famously said, "A problem well stated is half solved."

Furthermore, the compound effect of every bit of clarity you gain helps you to develop an even deeper clarity of yourself, which is known in social psychology as self-concept clarity.


What is self-concept clarity & why is it important?
Self-concept clarity is when you are able to understand who you truly are and what your values are, without being clouded by how others or society views you or expects you to be. It is more popularly known as "self-awareness" and is a pivotal ingredient to healthy self-esteem.

Self-concept clarity is innate in every human being, but is often lost over time as we pick up on other people's opinions, judgements, or expectations. Sometimes, self-concept clarity can be lost due to trauma, abuse, or because of the lack of identification with one's own culture or identity.

Studies have found that those with low self-concept clarity are more susceptible to depression, anxiety, neuroticism, and perceived stress. These people will then be more likely to use denial, mental disengagement, behavioral disengagement, and addictive escapism techniques such as drugs or alcohol.

However, when one achieves self-concept clarity or self-awareness, it can create a domino effect of transformation. It can help one discover their talents and skill sets in order to live a life that is aligned with who they are meant to be. It can even help heal trauma by revealing insights and opening the path to develop resilience and emotional intelligence skills.


Strengthening self-awareness and other benefits of journaling
Journaling and visualizations are two powerful self-concept clarity techniques that have proven to effectively help people get back on track with who they really are.

A daily habit of journaling can also be beneficial in many different ways. Journaling has also been shown to help with:

1. Improving emotional, physical, and mental health
A study published by Cambridge University Press showed that journaling led to 'short-term increase in distress [and] negative mood', 'long-term decreases in health problems', and 'improvements in [...] post traumatic stress disorder (PTSD), symptomatology and other aspects of psychological health.'

2. Enhancing relationships
By providing an outlet for pent up feelings and emotions, you can release the emotions and stress which may otherwise manifest in other ways, such as interpersonal conflict. In the book, "Opening Up by Writing it Down" by psychologist and author Dr. James Pennbaker and Dr. Joshua Smith, improving relationships is cited as one of the many benefits of journaling.

3. Improving self-esteem and success
By giving individuals the opportunity to reflect on their achievements and work towards future goals, journaling can be a tool to improve self-esteem. Research published in the International and Multidisciplinary Perspectives Journal showed that journaling will "cultivate self‐esteem through self‐reflection" and "improve [...] chances of professional success."

4. Boosting happiness
On the other end of the spectrum of releasing pent-up emotions, journaling helps you record, express, and engage with gratitude daily. Designing Positive Psychology, a book published by Oxford University Press covers how gratitude is a virtue that enhances overall well-being and happiness.

5. Reaching your goals
Research on cognitive-behavioral therapy indicates that journaling can have a positive impact on self-efficacy, which is "an individual's confidence in their ability to complete a task or achieve a goal." Furthermore, journaling helps you to stay motivated and on track with the daily habits to achieve your goals.


How to start a daily journaling habit
You now understand the benefits of journaling and want to reap its benefits. Where do you start? What do you write about? And if you've tried to start before but couldn't stay consistent, how do you maintain the habit?

Here are our tips to start a daily journaling habit that can transform your life:

1. Find a good digital journaling app
Why go digital instead of using the pen-and-paper method? Many people find that a digital journaling app serves them better. Firstly, it lets them quickly journal from anywhere at any time before the thought gets lost. Secondly, since there is no fear someone might find and read your journal, they feel safer to write without apprehension.

2. Don't pressure yourself to write something "good"
To truly reap the benefits of journaling, it's best to simply write whatever is on your mind! Even if what you write is, "I don't know what to write"! You're not trying to write something good and nobody is going to grade you. This is just you connecting with your thoughts, so write anything that comes to mind without trying to make it "good".

3. Embrace the self-care mindset
Journaling is self-care. Think of it like the hot bath you look forward to at the end of the day. No matter how busy life gets, making time for your self-care is always worth it. Embrace this mindset and you will soon see how journaling transforms your life.

What makes a good digital journal?
Now that you're ready to get started with journaling, here are our tips on what to look for in a good digital journal app:

1. Simplicity
If it's confusing to use or takes too long to add a journal entry, you will struggle to keep a consistent journaling habit.

2. Aesthetically pleasing
Journaling is about the space to connect with your thoughts uninterrupted. If the interface is cluttered or ads keep popping up, you'll struggle to focus on your thoughts.

3. Reminders and prompts
It can be tough to create a new habit. A journaling app with automatic reminders and prompts can nudge you to write in your journal so you don't forget.

4. Let's you save your entries
The flexibility to export data to formats like PDF or RTF means you have the freedom to save your journals elsewhere or move to a different platform.

5. Affordable and value for money
The best journaling apps give you value for money. You don't want to rely on free apps with limited functionality or interruptive ads. But it shouldn't be expensive to maintain a daily journaling habit, either

Based on this criteria, we've compiled the best journaling apps for 2021/2022.

The top 7 best apps for journaling (2021/2022 update)
#7. Best Journal App for Gamification: Luna Diary
Luna Diary, or the moon journal, is a great digital journal app for those who love a visual treat and gamification.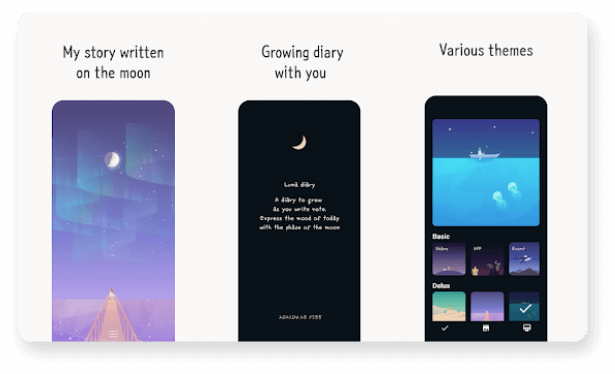 It is easy to use as you can simply express your mood of the day as the moon. The key differentiating factor of Luna Diary is its interactive interface. Its beautiful illustrations will grow the more you use it. This becomes an in-built gamification: as you watch the flowers, stars, and the moon grow as you write, you'll be encouraged to keep up your journaling habit.

So if you love gamifying your habits, then Luna Diary would be a great way to start your journaling habit. However, it does not have as many features as some of its compatriots. This could make it more restrictive as you grow and want to get more out of your journaling habit.

The app is free with ads, while there are in-app purchases to unlock additional themes. It also has a password feature to make sure your Luna Diary is safe from prying eyes.


#6. Best Bullet Journal App: Daylio
Daylio positions itself as a "micro diary and mood tracker". It leverages the concept of bullet journaling, which is capturing micro thoughts. Those who don't like to write long essays on a blank page will like Daylio's format of writing prompts to capture their daily thoughts and emotions.


Its mood tracker then makes it easy for you to capture your mood with a simple tap. Fast, easy, and intuitive to use, Daylio makes journaling easy, especially for beginners. However, it may restrict you from being able to connect with your deeper thoughts to heal and uncover your true self due it's micro-journaling format.


#5. Best Journal App for Organizers: Diaro
Diaro is a journaling app and mood tracker that has the added advantage of being able to add pictures to your journal entries. With a simple and easy interface, the feature that stands out the most for Diaro is the ability to organize your entries any way you like.

You can organize your entries in Diaro by folder tag or location. It even helps you to organize your day by being able to sync with your devices to record your activities, events, and appointments.

Some other features that make Diaro more secure include password protection, the ability to backup your data, and easy-to-use import export features. It is even translated into 30 languages for accessibility.

Diaro is free to use with ads while premium access costs $2.99-9.99/month/per item.


#4. Best Journal App for Social Media Lovers: Day One
Day One is an award-winning journal app for its visual appeal. In addition to writing journal entries, you can also add photos and even audio notes. Integration with Instagram makes it even easier for you to add memories from your social media account.



The app's structure and interface has been designed to help you capture thoughts and moments as it happens. Location tagging lets you keep track of where you've been. Its password protection includes biometrics, so you don't have to remember yet another password. With export options, you also have the peace of mind that you can keep your memories anywhere.

If you're an avid social media user, then this app is the perfect way to keep a diary. However, since it is more like a private social media account, it does lack other tools that can help you develop your self-awareness and personal growth.

It's free to use for unlimited text entries but to unlock unlimited audio, media, and other features, you'll need premium access which costs $35/year.


#3. Best Journal App for Positivity: Reflectly
Reflectly positions itself as an intelligent journal system that adapts to your thoughts and feelings. It then delivers personalized morning motivation and affirmations the more you use it.

If your primary goal of journaling is to boost happiness, then Reflectly has the triple punch package of a diary, a gratitude journal, and a mood tracker that really helps you focus on connecting with your emotions. Their AI will then help you identify trends and get personalized insights to help you improve your happiness and well-being.

The free version has ads, which can be interruptive. To be free from ads, the premium version costs $10/month or $48/year.


#2. Best Journal App for Gratitude: Five Minute Journal
Do you feel like you're constantly strapped for time? Then the Five Minute Journal

could be your best bet. This digital journal, which is based on the bestselling physical journal, Five Minute Journal Notebook, focuses on gratitude.



The structure is designed to help you complete a journal entry in just five minutes every morning. The app will send you a reminder to answer three questions that will help you flex that gratitude muscle to give you the best start to your day.

Widgets, motivational quotes, and reminders help keep you focused on gratitude throughout the day. A mood tracker helps you to keep track of your emotional patterns, while a note taking section that lets you upload photos gives you a space to jot down a few thoughts.

While it does not have full journal features for those who want to write out their thoughts and reflect deeply, the Five Minute Journal does make it easy for you to leverage the benefits of gratitude from journaling with a small time commitment.

Five Minute Journal costs $4.99.


#1. Best Journal App for Holistic Personal Growth: Visionbook
We've saved the best for last. If you're interested in fully reaping the benefits of journaling, then Visionbook is the digital journal app that knocks it out of the park.

Visionbook has a powerful journaling feature offering you the flexibility to write in bullet journal format when you like, and deeper, longer entries when you need to dive deeper into reflection. You can also add photos and other media into your entries.

What makes Visionbook unique to other journal apps is how its other features have been designed to support holistic personal growth. Some additional features include your daily routine, today's priorities, your mission statement, values, and top goals.

Perhaps the most valuable feature of Visionbook is the integration of a digital vision board. Like journaling, a vision board is a powerful self-concept clarity tool. With the two combined in one seamless app, you'll get to accelerate your personal growth. It's like having a personal coach in your pocket!

Despite boasting a lot of features, Visionbook does not feel cluttered or overwhelming. It has a clean and aesthetically pleasing interface that makes it easy for you to see the most important bits to fuel your day at a glance, so you can easily stay on track with creating the best version of your day—and your life.


Visionbook costs $9.97/month or $1.5/month with The Early Program. Considering that Visionbook is a few personal development apps rolled into one, this is by far the best value for money you'll get from a digital journal app.